A Boat Lift is Crucial for Convenient Pier Access
Owning a boat is a significant investment with large payoffs. One of the best ways to keep the costs manageable and the payoffs high is by using a boat lift. Boat lifts eliminate the hassle of transporting boats from land to water and vice versa. They also increase the functional and operational longevity of your boat. If you don't yet have a boat lift, then we're glad you're reading this guide. Because in it, we will demonstrate why a boat lift is a worthwhile investment. In short, the cost of a boat lift pays off by reducing the expenses of cleaning, fixing, and restoring your boat in the long run.
Are you ready to learn more about boat lifts? Then let's begin!
What is a Boat Lift?
A boat lift is a piece of equipment that lifts a boat out of the water and keeps it suspended above the water level. Today's lifts use advanced technology to make lifting a boat as simple as possible. But it wasn't always that easy.
To understand the importance of boat lifts, we must take a quick look at the history of the devices.
A Brief History of Boat Lifts
The first boat lifts used a pair of davits to lift tub boats out of the water, which was a difficult task. Larger vessels often required multiple people to operate the lift. And it would usually take a significant amount of time to get the boat out of the water.
Fortunately, new inventions came along and eliminated the difficulty of using davits. These inventions included cradle systems, which enabled the lift to support the weight of the boat. They also featured bunk boards that connected the cradle system to the lifting platform.
Another development that further improved boat lifts was replacing the widely used galvanized steel with aluminum. Initially, most boat lifts used galvanized steel. However, it proved too weak for supporting larger boats and was more conducive to corrosion over time. Aluminum, on the other hand, stands up well under large amounts of weight.
Boat Lifts Today
Modern boat lift manufacturers have perfected the art of efficiently raising boats and keeping them dry. Not only do they still use sturdy aluminum frames for their machines, but they also have developed some amazing cradle systems.
Here are just a few of the many types of advanced cradle systems available today:
Hydraulic cylinders
Pneumatic floatation
Wound cables
Vertical boat lifts
Electrical boat docks and lifts
Hydro-pneumatic
Because of this advanced technology, a boat lift has never been a more worthwhile investment for boat owners. In the next section, we will explore some of the main benefits lifts can provide.
What are the Benefits of Boat Lifts?
Defense Against Algae, Corrosion, and More
Leaving your boat in the water for a long time can cause lower unit wear, blistering on the hull, and corrosion. Algae can also collect on the boat exterior. Furthermore, you may also have to contend with zebra mussels, barnacles, and other aquatic creatures.
All of this leads to a lot of expensive and time-consuming clean up and maintenance. And who wants to deal with that?
Keeping a boat suspended on a boat lift will help to prevent those issues. As a result, you will spend less time maintaining your boat and more time enjoying life out on the water!
Fewer Scuffs and Damage
Tidal changes and rough waters can damage your boat by causing it to scrape against the dock. Winter ice floes and debris from storms or floods can also cause scuffs and scrapes.
The good news is a boat lift can keep your watercraft safe by holding it above the fray.
Easier and Safer Boating
Getting into a boat that is bobbing on the water is often a difficult and unnerving task. However, one of the nice things about boat lifts is they hold a boat steady above the wake. As a result, it is much easier and safer to get in and out of the boat.
The increased stability boat lifts provide also makes it easier to perform maintenance checks on them. Of course, the maintenance checks are also quicker because of how the lift protects a boat from damage.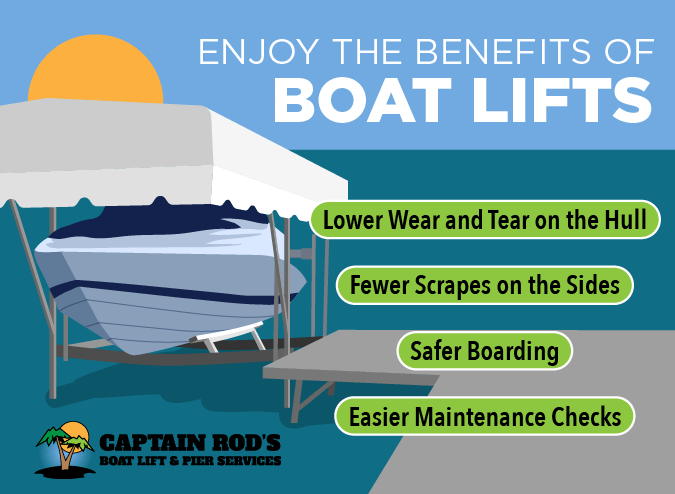 What are the Different Types of Boat Lifts?
Walking or cruising along the shore, you're sure to see a variety of different boat lifts. The different elements, designs, and brands prove there's no one lift suitable for all boats.
Choosing the right boat lift depends on the size and shape of the boat, the location or docking point, the expense of the system, and the type of water the boat is in (freshwater or saltwater). At Captain Rod's, we help our customers answer these questions every day and match them up with the perfect lift for their situation.
Below we will look at some of the most popular types of boat lifts and the unique benefits of each.
Pontoon Boat Lifts
If you own a pontoon boat, then you understand how difficult it can be to get the big weighty watercraft in and out of the water. Fortunately, there are powerful lifts designed specifically with pontoon boats in mind. These lifts often feature strong motors and durable frames to give your pontoon the durable support it needs.
Elevator Boat Lifts
An elevator boat lift is an ideal choice for tight spaces such as a canal or embankment. These smartly designed devices can lift a boat out of the water at a variety of different angles.
Freestanding Boat Lift
Boat owners in northern climates like McHenry, IL, appreciate the value of freestanding lifts. Not only do they work on a variety of seafloor conditions, but they are also removable. Because of this, boat owners don't have to leave them out in the cold to get damaged by harsh winter weather.
Floating Boat Lifts
As the name suggests, floating boat lifts float on the water next to a dock. Because of this, they are perfect for deeper water depths, where mounting a lift is more difficult.  They also work with a variety of boat types and sizes.
Who are the Best Boat Lift Manufacturers?
One of the most important factors to consider when purchasing a lift is the manufacturer. After all, a boat lift is only as trustworthy as the company that produced it.
At Captain Rod's, we only work with the most trustworthy manufacturers on the market. The three we trust the most are MAX, Summit Marine, and Golden Boat Lifts.
We will explain why we trust each of these brands below.
MAX Lifts
MAX Lifts are designed for maximum protection for any type of watercraft. These cable lifts make it easy to lift your boat, jet ski, or other vessels out of the water and keep it safe from harm.
MAX also offers a complete range of configurations, including bunk options, catwalks, motor stops, guide-ons, electric drive motors, solar power, canopy systems, and more.
Summit Marine Lifts
Summit Marine Lifts are one of the most popular and dependable hydraulic boat lifts in the world. They utilize a hydraulic engine and provide safe power, simple assembly, and total portability. Plus, they are competitively priced, so you always know you're getting a decent deal.
Golden Hydraulic Lifts
We proudly offer Golden Boat Lifts' Tornado lift, which is a durable model ideal for the cold climate here in the Midwest. The innovative lift boasts a unique multi-bunk system allowing it to support boats of any size. It also features a device called an Air Bellow, which prevents marine growth from forming on the haul of a boat.
What Boat Lift Accessories Should I Get?
Canopies and Bird Deterrents
A canopy will protect your boat from sun, rain, and birds while it rests on your boat lift. There are also bird deterrent systems that can prevent birds from perching on your canopy and soiling it.
Solar Panel Systems
There are many objects on your pier which use electricity, including your boat lift and your personal watercraft. Since they're already sitting outside, why not set up a solar panel system to power them? There are many kits on the market which you can use to charge various systems.
Hull Supports
Hull supports provide additional support to your boat while it sits on the boat lift. They come in several different varieties, including cradles, full-length bunks, and pontoon bunks / guide-in systems.
Guide-Ins
Generally-speaking, guide-ins are structures that make it easier and safer to navigate your boat onto or off the boat lift. Varieties include bow guides, pontoon guides, vertical PVC guide-ins, and full-length guide-in systems.
Floodlights
Whether you're getting an early start before sunrise, getting home late in the evening, or docking in stormy conditions, it helps to be able to see. We recommend installing a floodlight to help you safely get your boat on or off the boat lift in those situations.
Wireless Remote
Once you have a few different accessories on your pier, including a boat lift, canopy, and floodlights, the next step may be to get a remote to control it all. If you have an electric winch boat lift or vertical screw drive (VSD) boat lift, you can use a remote to raise or lower the boat from up to 300 feet away or power your lights on or off.
Are You Ready to Get a Lift?
We hope you have found this guide helpful for starting your boat lift journey. Above all, we hope it has shown you that there are a lot of options out there when it comes to boat lifts. Because of this, you need to consider several factors before choosing the right lift for you.
As you make that decision, keep in mind that the experts at Captain Rod's Boat Lift and Pier Services in McHenry, IL are here to help. Give us a call at (815) 759-9134, and we'll set you up with the right lift for your watercraft!