Captain Rod's offers different types of lift systems to fit your needs. We can help you properly size, accessorize, assemble and install your lift to best protect your boat or watercraft investment.
MAX Lifts are designed for maximum protection for any type of watercraft. These cable lifts make it easy to lift your boat, jet ski, or other vessels out of the water and keep it safe from harm.
MAX also offers a complete range of configurations, including bunk options, catwalks, motor stops, guide-ons, electric drive motors, solar power, canopy systems, and more.
Whether you have a inboard ski boat, pontoon, Fishing boat or cruiser, MAX has a lift for you. Each lift is designed to be the best in it's class, with features you can count on. All lifts in this class feature Nylatron® pulleys, tower quide rollers, stainless leveling cables, 84" tall welded towers, and industry leading lifting Heights to make sure your boat is out of the water and well protected.
Max Can provide lifts ranging from 1200 capacity to 8000lb Capacity.
Max have many accessories to fit all of your boating needs.
Security for your Investments
MAX Lifts are some of the strongest, best built lifts on the water today, and have all the quality features that you've come to expect from MAX products. Stronger, thicker extrusions provide the foundation, and longer frames increase the "footprint" in the water, providing a stable platform for your watercraft.
The new MAX vertical lift was designed to accommodate today's bigger, heavier PWC's and small boats. A great choice, deliberately over-built, and the best value in it's class. We offer both hand-wheel operated lifts and electric winch systems.
Our larger lifts are longer with an inside beam, providing more room for loading your boat without fear of damage. We incorporate the Max Tri-Cradle, which mirrors what trailer manufacturers do when building trailers for today's sophisticated boat hulls. The center cradle design allows the use of multiple lengths of bunks - as short as 9' - to provide optimum support for your investment while docked on the lift.
This puts the bunk support where it's needed without the added expense of using unnecessarily long bunks which don't make contact with the hull over the entire length. It works best for tri-toon pontoons with different size tubes, fiberglass boats with stepped hulls and varying dead rises, or inboards with taller fins or unique hull designs.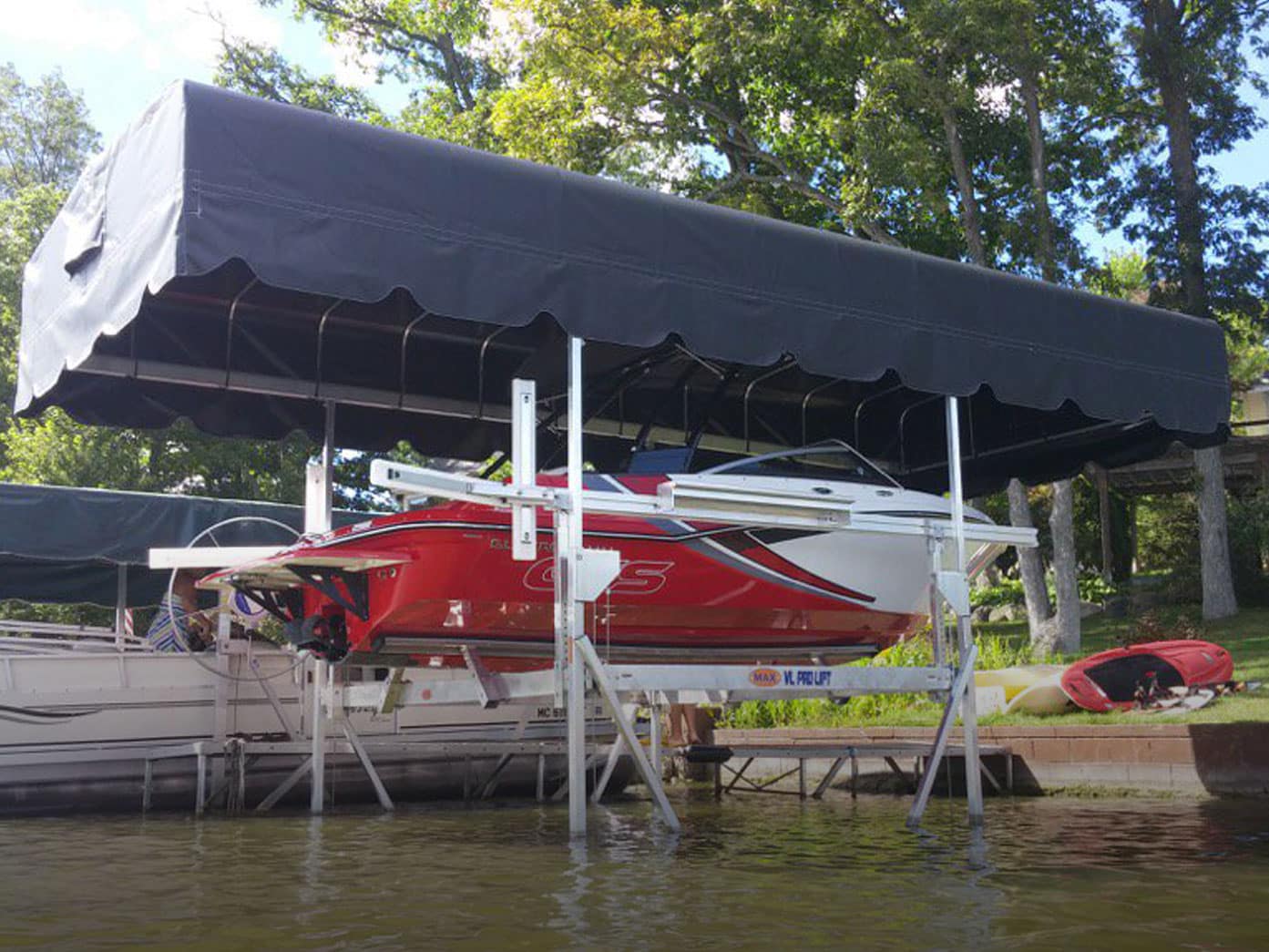 July 18, 2019
Boat Lifts
,
boat care
,
Boat Lifts
,
boating
,
Captain Rod's
,
Chain O'Lakes
,
docks
,
piers
Discover the Boat Lift Essentials: Protect Your Boat and Save in the Long Run If you own both a boat and a personal dock, you might think the best storage option is the water. But believe it or not, this method of storage can cause long...